Below are a few questions we get from our clients during the roofing process.  If you don't see the answer to your question, please contact us.

Do you offer any financing options?

My roof is leaking. What are my options?
We are available to inspect your roof to be able properly advise you on the best plan of action. Tarps are only advise for very temporary situations. Leaking can result from damage to a section of the roof or from flashing coming loose. Depending on the situation, we can patch the roof, recover the roof with new roofing material, or replace the roofing system. Patching is usually appropriate if the roofing system is mostly intact. Recovery can be an option if the city/state/municipal building codes will allow. 

What are the costs of a new roof?
Pricing of a new roof depends on the type of material you select, whether or not you remove the old roof, the type of underlayment, the price of the permit, and the complexity of the roof and of the job site. We recommend scheduling us to give you an estimate on-site.

Are you licensed and insured?
This is a great question to ask any contractor working on your property.  Sunlight is licensed and insured in the State of Florida.  Here is our license number CCC 1331093. We will provide license, liability insurance and workmancomp insurance proof when we send you over our estimate.

How long does it take to replace a roof?
Reroof (replacing exisiting roof) or new roof (new construction) depends on the type of roof, materical availablity, weather, and the required inspections needed. Before we start your project, we will give you a solid timeline from start to finish.  We work around the clock to ensure we meet our deadlines.

Why are Metal roofs so popular now?
Metal roofs have a range of prices, however, are typically they are the most expensive per square foot. Metal roofs are known for their long life span, fire-resistance, and mostly their energy-efficiency.  They also have a very clean look adding a modern curb appeal to the home.

Does Sunlight provide a Warranty?
Workmanship warranty depends on the type of roof and can vary from 5-12 years.  It can vary depending on materials which are also backed by the manufacturer's warranty.

How can a homeowner recognize if there is a problem with their roof?
Early detection is key if you want to prevent expensive roofing issues.  We recommend having a professional roofer perform a roof inspection periodically or before the hurricane season.

Can you help me understand the roofing components of a typical roof?
Bellow is a diagram of a typical roof components.  When we come out to your property, we will make sure you fully understand the project, the scope of work and the different materials you have to choose from.  We love to educate our customers in order for them to make inform decisions that best suit their needs.

Does my HOA need to approve my material choices?
Most HOAs will require a request to be submitted to your Architectural Review Committee (ARC).  You should check with your property management company for more details on approved materials and the recommended process. We can provide the documentation needed to help you with the ARC process.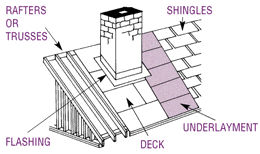 We strive for happy customers.
This roof will last you a few decades.  Make sure you choose the team that installs it, just as carefully as you choose your materials.
"Sunlight roofing did an amazing job on our roof. Our roof was really big and it was defiantly no easy job. They did our complete roof quick and absolutely the best quality. Very Professional from the owner down to the workers, they showed up every day and on time. 10 out of 10! Save yourself the trouble and hire them."
"We had our roof replaced with Sunlight Roofing. We honestly have no complaints. The entire experience was seamless from placing the order to installation to final inspection. They were quick professional and detailed in their work. We are very happy we decided to go with the metal roof. The look of our house changed completely. Thanks to Sunlight Roofing and Hector for everything. Thank you!"
"I am very happy with the service Sunlight Roofing provides. Hector is very professional, punctual, and true to his deadline. The overall work is outstanding, and he is very knowledgeable. I work in property management, and our company uses him for all our roofing needs. I recommend Sunlight Roofing for your home and/or business."
Request an Estimate From Our Roofing Experts.
6187 NW 167th Street #H39 Miami Lakes, FL 33015